Browse Items (11 total)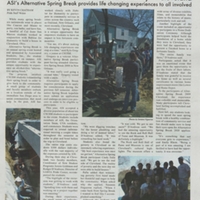 This issue of the Pride, Vo. 21, No. 12 reports on the Alternative Spring Break working with Habitat for Humanity, upcoming job fair and International Fair, new CoBA business societies, and a local attempted robbery.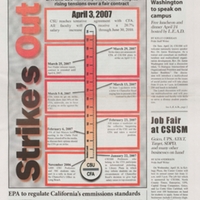 Vol. 17, No. 11 covers the tentative agreement to avert a faculty strike, upcoming multiculturalism speaker, job fair, and technology available for checkout.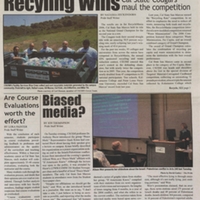 The Recyclemania win leads the news in Vol. 15, No. 13. Other articles look at the value of course evaluations, a presentation on bias in media by Peace Mark, and the recent job fair.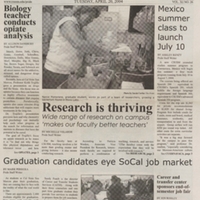 Vol. 11, No. 26 reports on research across campus, job fair, budget cuts for the College of Arts & Sciences, summer studies in Mexico, evacuation of the Kellogg Library, fair trade coffee, and second International Fair.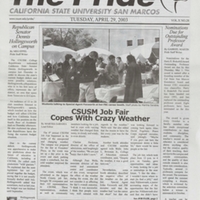 Nominations for the Harry E. Brakebill Outstanding Professor award are due, a job fair, and a event with California State Senator Dennis Hollingsworth hosted by the College Republicans highlight coverage in this issue. (Note: This year was…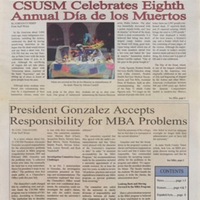 The Vol. 10x, No. 10 edition of The Pride features reporting on the 8th Annual Dia de los Muertos celebration as well as President Gonzalez' response for the MBA program problems. (Note: This year was misidentified as Vol. 10 It should have been…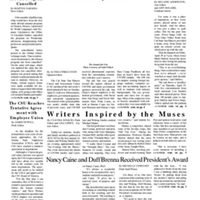 Vol. 10, No. 12 of The Pride includes reporting on the CSUSM job fair, a tentative agreement between the CSU and the California State Employees Association (CSEA), two recipients of the CSUSM President's Award and the first annual Literature and…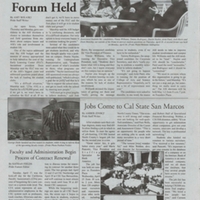 Vol. 8, No. 27 reports on the ASI candidate forum, job fair, faculty contract negotiations, library building groundbreaking, local protests regarding the Free Trade of the Americas Agreement, and a beach clean up led by the Environmental Club.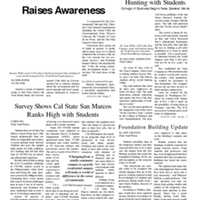 Vol. 9, No. 15 included articles on a campus environmental fair, an update on the repairs to the Foundation Classroom Building, a campus survey and a new College of Business speaker series.
Vol. 9, No. 11 of the Pride features reports on the campus job fair, the Ethnic Studies Program and the Dia de los Muertos/Day of the Dead celebrations on campus.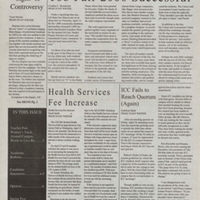 Vol. 7, No. 26 reports on the ASI election controversy, job fair and continued coverage on Greek life.