Browse Items (11 total)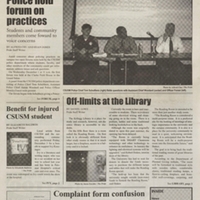 Vol. 12, No, 14 reports on the campus police forums, the Library Reading Room space, benefit for injured student, President Haynes in the classroom, upcoming whiteness forum, creative T-shirt making, and an interview with Campus Coffee owner, Tim…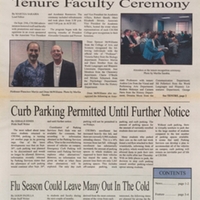 Vol. 10x, No. 5 announces the continuation of curb parking, tips to avoid getting the flu, and the tenure faculty ceremony held on September 25th.
(Note: This year was misidentified as Vol. 10 It should have been numbered Vol. 11, it has been…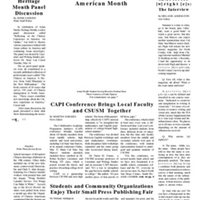 Vol. 13, No. 15 of The Pride reported on the Collaborative Academic Preparation Initiative (CAPI), Asian Pacific Heritage Month, and a Small Press Publishing Fair held on campus. (Note: This issue was misidentified as Vol. 13, No. 15. It should have…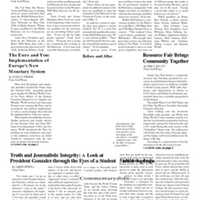 The cover of the Vol. 10, No. 14 of The Pride reports on the Cougar Track Team 15-person entry into the National Association of Intercollegiate Athletics (NAIA) Nationals. An interview with CSUM President Alexander Gonzalez, the Euro, and a community…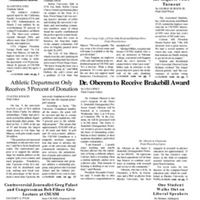 The Vol. 10, No. 9 edition of The Pride included coverage of the ASI election and the contract ratification by the CFA. Dr. Graham Oberem is the 2002 recipient of the Harry E. Brakebill Distinguished Professor Award and the athletic department is…
An interview with new campus president, Karen S. Haynes is on the front page of Vol. 11, No. 16 with dismal budget forecast from Chancellor Charles Reed and the impact of the budget cuts on the Equal Opportunity Program (EOP) . Other news articles…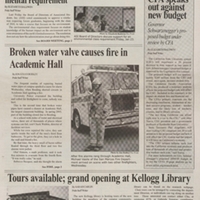 Vol. 11, No. 15 covers the ASI Board resolution for an environmental course requirement, CFA on the state budget, fire in Academic Hall, the Kellogg Library grand opening and building layout, funding aided by Congressman Randy "Duke" Cunningham to…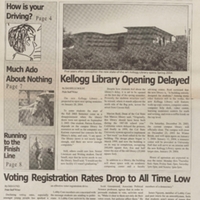 Vol. 11, No. 2 reports on the delay of the new library opening, declining voter registration, the status of parking, campus safety, Disabled Student Services, and the Field House opening. A look at Proposition 54 is also provided.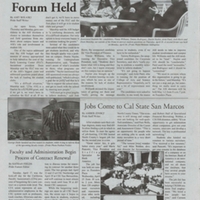 Vol. 8, No. 27 reports on the ASI candidate forum, job fair, faculty contract negotiations, library building groundbreaking, local protests regarding the Free Trade of the Americas Agreement, and a beach clean up led by the Environmental Club.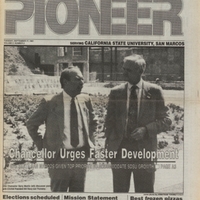 Volume 2, Number 2 of the first student newspaper on the CSUSM campus. The cover story reports on CSU Chancellor Barry Munitz's call to quicken CSUSM campus development to accommodate student enrollment.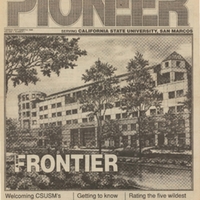 Volume 1, Number 1 of the first independent student newspaper on the CSUSM campus. The cover story, A New Frontier, discusses the Italianate style of the campus architecture. CSUSM President Bill Stacy is featured in an interview with the Pioneer…