Browse Items (11 total)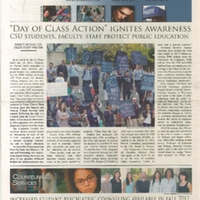 Vol. 25, No. 10 covers the CSU-wide protest to protect public education against budget cuts. The International Fair events are described along with traditional Easter activities. Literary activities are highlighted with articles on the Creative…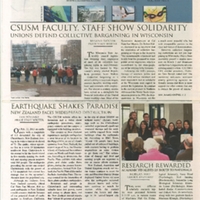 Vol. 25, No. 5 announces the finalists attending statewide academic research competitions, international travel and study opportunities, and a student art exhibit in the ARTS building.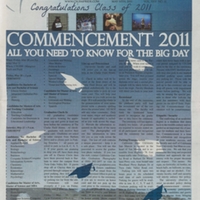 Vol. 25, No. 11 offers a guide for Commencement, news on a scholarship funded by President Haynes, an increase in parking fees, Pause for Paws stress relief, and the new CougarApps.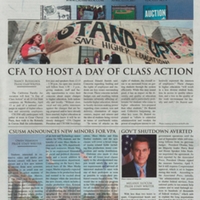 This issue announces the CFA-sponsored Day of Class Action regarding the state of college education and student and staff rights. New minors in the Visual and Performing Arts (VPA) and Mass Media and Communication Programs are announced. The Federal…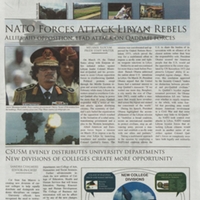 Front page news in Vol. 25, No. 8 is the NATO invasion of Libya and the restructuring from three to four Colleges. Other stories include Spring Break student service activities, Social Justice Symposium, and a variety of sports events.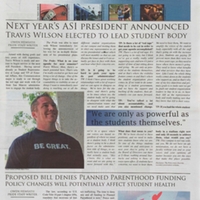 Vol. 25, No. 7 interviews the next ASI President, Travis Wilson, looks at the potential impact of a cut to Planned Parenthood on student health, promotes a blood drive in honor of Dolores Huerta and CAMP, and takes a ride on the Sprinter.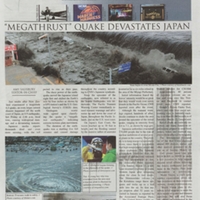 This issue (Vol. 25, No. 6) reports on the Japanese earthquake, Spring Fling cancellation and alternate plans, MidEast unrest, and online dating safety. Other articles cover Women's History Month activities and Title IX. [Note: some smearing on front…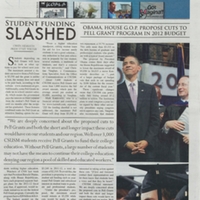 This issue (Vol. 25, No. 4) looks at reductions in student financial aid such as Pell Grants, the Kellogg Library, Language Learning Center, and natural remedies for the flu. A campus landmark, the White Rose Memorial is explained.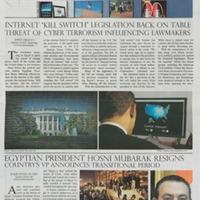 Vol. 25, No. 3 covers a variety of news including internet security, unrest in Egypt, an alcohol-related student death, Black History Month, local hiking, and health issues.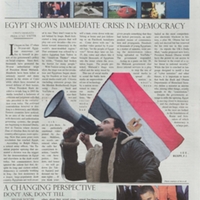 Egypt's political crisis is the featured front page story in Vol. 25, No. 2. Also sharing the front page, is the repeal of the "Don't Ask, Don't Tell" legislation. The first publication of the CSUSM version of "The Koala" is noted. Arts & Lectures…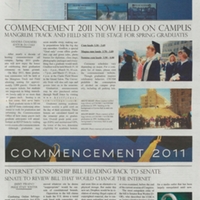 Vol. 25, No. 1 announces the return of Commencement to campus from the Del Mar Fairgrounds, the opening of the Social and Behavioral Sciences building, and new paper staff. This issue also looks at the proposed internet censorship bill.