Browse Items (11 total)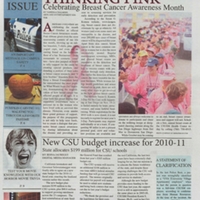 As October is Breast Cancer Awareness Month, the paper features this topic on the front page of Vol. 24, No. 7. Good news is reflected in an increase in the CSU budget for 2011-2012, students are advised to secure their cars against theft, and…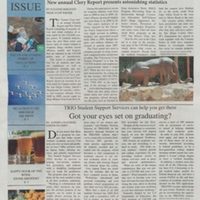 A look at campus and local crime found in the annual Clery Report is found on the front page of Vol. 24, No. 5. Additional articles are found on campus resources in the TRIO program and Career Center, geocaching, and a variety of local entertainment…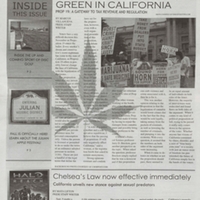 The legalization of marijuana (Proposition 19) leads the Vol. 24, No. 4 edition. Also on the front page is the passage of Chelsea's Law. Other articles are entertainment and sports-focused, including a look at disc golf.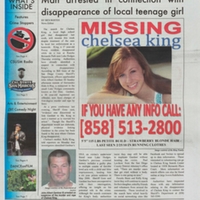 This issue (Vol. 23, No. 5) reports on the disappearance of Chelsea King, the first ever CSUSM Roundup foot race, hazards of social smoking, volunteering with "Thrive Food Stamps" and CSUSM Radio.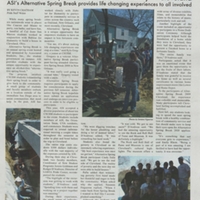 This issue of the Pride, Vo. 21, No. 12 reports on the Alternative Spring Break working with Habitat for Humanity, upcoming job fair and International Fair, new CoBA business societies, and a local attempted robbery.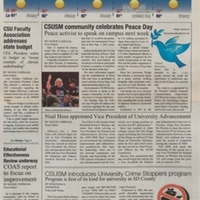 With the semester underway, the Pride turns its attention to the CFA's stance on the CSU budget, Peace Day, Educational Effectiveness Review, and the implementation of University Crime Stoppers.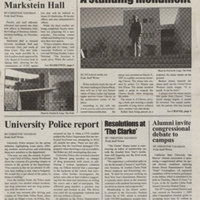 Vol. 15, No. 1 reacquaints readers with the Cesar Chavez statue, notes faculty move into Markstein Hall (AKA Business), a review of the campus crime report, and a congressional debate on campus. Featured is an interview with Ivy Kensinger CSUSM…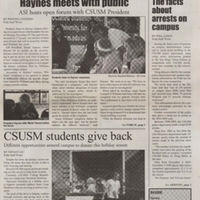 President Haynes meets in an open forum with students on campus policing, reporters check the statistics on campus arrests, student giving during the holidays and AIDS awareness.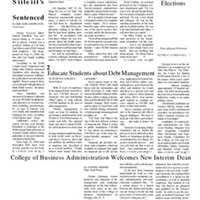 The Vol. 10, No. 5 edition of The Pride reported the death of Computer Science professor Dr. Hung-Yu Lin. Also covered were the upcoming ASI elections, an interview with the new Director of Financial Aid and the new College of Business Dean, and the…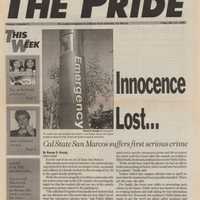 In the Vol. 3, No. 5 of The Pride, the cover story reports the first serious crime on campus.