Browse Items (10 total)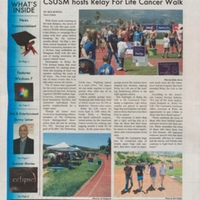 Student participation in the Relay for Life fundraiser is top news in Vol. 23, No. 11. Commencement information is provided and as the semester winds down, Pride staff say farewell.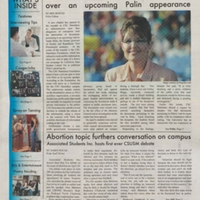 CSU Stanislaus takes front of paper with a scandal over documents shredded in connection to a visit to the campus by Sarah Palin, Vice-Presidential candidate. Vol. 23. No. 10 also reports on an ASI-sponsored abortion debate, the Recyclemania win, and…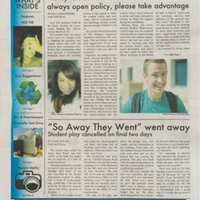 New ASI officers elected with a low turnout and the cancellation of a student/faculty play about the budget are front page news in Vol. 23, No. 9. Other stories cover hate crimes on campus and the NOH8 campaign and staying healthy.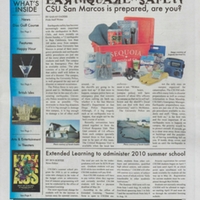 This issue (Vol. 23, No. 8) informs on campus emergency preparedness for earthquakes, summer school administered through Extended Learning due to budget cuts, the opening of the disc golf course, and the science of sleep.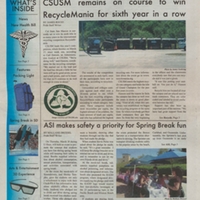 The Vol. 23, No. 7 issue includes stories on Recyclemania, various activities and safety during Spring Break, and national health care reform,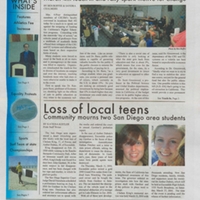 A faculty teach-in to protest budget cuts leads the news in Vol 23, No. 6. Also on the front page is the story of Amber Dubois and Chelsea King's murders and the elimination of the Computer Comptency Requirement (CCR). Other stories report the…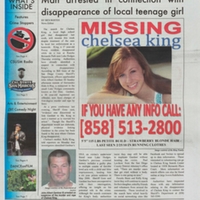 This issue (Vol. 23, No. 5) reports on the disappearance of Chelsea King, the first ever CSUSM Roundup foot race, hazards of social smoking, volunteering with "Thrive Food Stamps" and CSUSM Radio.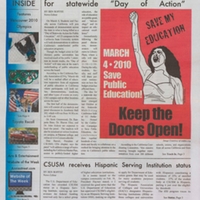 Vol. 23, No. 4 reports on the upcoming faculty and student "Day of Action" to protest the budget, the granting of Hispanic Serving Institution (HSI) status, life at the University Village Apartments, and the Olympics.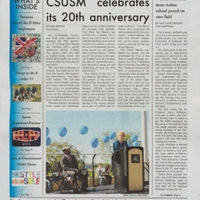 Vol. 23, No. 2 covers CSUSM's 20th anniversary celebrations, the inauguration of the new softball field, and budget proposals that may help the CSU. Inter-Varsity's work for Haitian relief is also reported.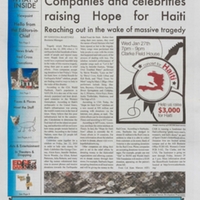 This issue (dated 2009 on the paper, but actually Vol. 23, No. 1 of 2010) has relief efforts in the wake of the Haiti earthquake on the front page. Additional reporting covers donations to the Red Cross, healthcare reform, and the heavy rains for the…