Browse Items (8 total)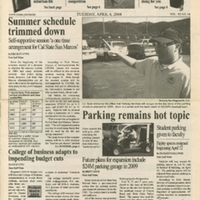 Vol. 11, No. 24 reports on the continuation of summer classes and ASI election results. Much of the issue is devoted to student fees, parking woes and the future parking structure. The Transition Program which assists Facilities in keeping the campus…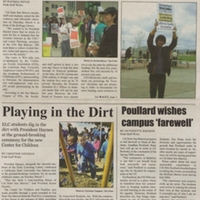 Vol. 15, No. 9 reports on the Early Learning Center groundbreaking, faculty and student protest, parking issues of spaces and fees, and Holocaust survivor visit to campus. The status of competition midway through Recyclemania is also covered.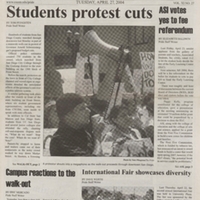 This issue (No. 27 of Vol. 11) reports on the ASI decision for a fee referendum for the Early Learning Center, student protests against budget cuts, the International Festival, President Haynes' transition team, and a summary of arts groups on campus…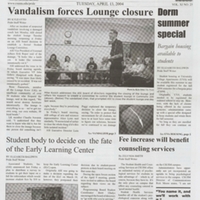 Vol. 11, No. 25 includes articles on campus vandalism, dorm summer housing, continued discussion of the Early Learning Center, fee increase proposal for counseling services, parents as students, and an interview with study abroad student, Lily…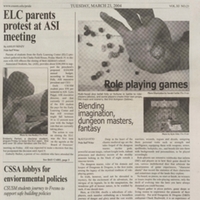 This issue (Vol. 11, No. 23) covers role playing games, Early Learning Center protest over funding cuts and proposed fee, action for sustainable buildings, and upcoming ASI elections,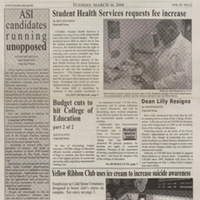 Vol. 11, No. 22 covers a proposed Student Health Services fee, ASI election slate, Part Two of the series on College of Education budget cuts, CoE Dean Lilly resignation, suicide awareness fundraiser, VSAr 306 community service, and the upcoming…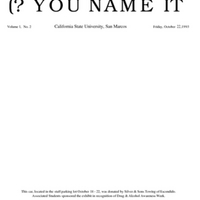 Vol. 1, No. 2 of the campus newspaper in search of a new name. The second of two issues published under the You Name It masthead. The cover photo is a reminder not to drink and drive this Halloween.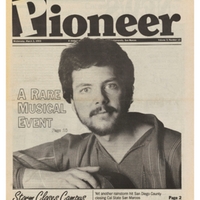 Volume 3, Number 10 of the first student newspaper on the CSUSM campus. The cover story reports on musical events and intense weather conditions.