Browse Items (12 total)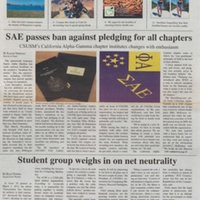 Volume 42, number 12 of The Cougar Chronicle. The issue includes stories of fraternity changes, cyber security, and the impact of media on consumers.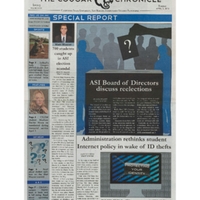 Volume 39, Number 5 of Cougar Chronicle. The issue includes stories of student election scandal and new Internet privacy policy,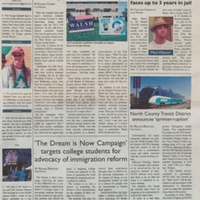 Volume 41, number 5 of The Cougar Chronicle. The issue includes stories of the ASI election, the DREAM Act, and North County Transit system.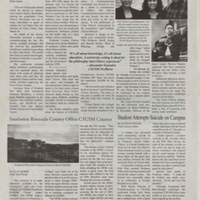 Vol. 8, No. 24 covers the first Cesar Chavez "Day of Learning" and more on Cesar Chavez, course offering at Southwest Riverside location, attempted suicide by a non-student on campus, tax preparation information, and the visit sponsored by the…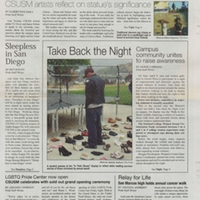 A candlelight vigil at the Cesar Chavez statue, Take Back the Night, and Sleepless in San Diego are all evening events reported in Vol. 19, No. 12. Additional stories are the opening of the LGBTQ Center and the annual Job Fair.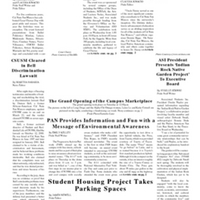 Vol. 10, No. 10 of The Pride reports on celebrations for Cesar E. Chavez and "Uncle Henry" Rodriguez. The new shopping center is now open across from campus, a discrimination lawsuit has been settled, student housing claimed parking spaces, and the…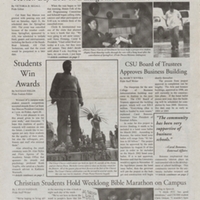 Rain postpones Preview Day Springfest, student research winners announced, Cesar Chavez celebration, CSU approves the College of Business building to move forward, students hold Bible marathon, and April is Sexual Assault Awareness Month. Also in…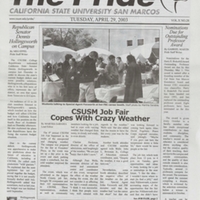 Nominations for the Harry E. Brakebill Outstanding Professor award are due, a job fair, and a event with California State Senator Dennis Hollingsworth hosted by the College Republicans highlight coverage in this issue. (Note: This year was…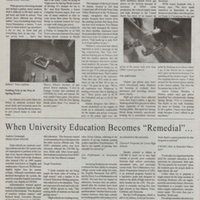 Vol. 7, No. 24 reports on the impact of rising gas prices, remedial education at university level and memorializes Cesar Chavez.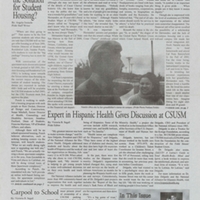 Vol. 8, No. 17 interviews a CSUSM student and granddaughter of Cesar Chavez, the lack of student housing during transition to dorms, "V-Day" against violence, calls for carpooling. On page 6 are the results of a survey on whether the Cesar Chavez…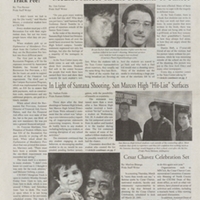 Vol. 8, No. 21 features include recent school shootings, a look at the recreation fee and upcoming Cesar Chavez celebration plans.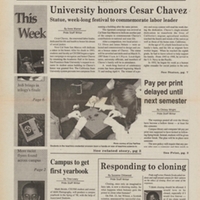 One cover story from the Vol. 4, No. 11 edition of The Pride is about the dedication of the Cesar Chavez statue on the Cal State San Marcos campus.