Beer and Wine Crafts
Subject
Homebrew shops
Homebrew shops--San Diego
Description
Beer and Wine Crafts was founded by Audrey and Owen Eckblom who provided handouts to customers for brewing instructions, educational literature, and recipes. Materials scanned from collection held by Tim St. Martin, founder and owner of Barrel Harbor Brewing in Vista 2013-2020.
Publisher
California State University San Marcos
Contributor
Judith A. Downie, Special Collections & History Librarian
Rights
Creative Commons License. This work is licensed under a Creative Commons Attribution-NonCommercial 4.0 International License.
Collection Items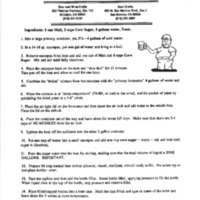 Recipe handout from Beer and Wine Crafts homebrew supply for a "beginner" beer. Both sides of handout are the same recipe, one side has some text border and cartoon art.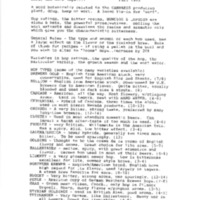 One page handout from Beer and Wine Crafts homebrew supply shop describing various hops varieties.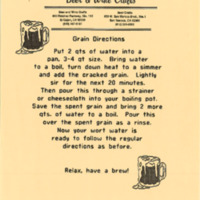 Handout from Beer and Wine Crafts on processing grain to create wort needed for brewing.
View all 3 items
Collection Tree