Our mission is to document and preserve the history of the craft brewing industry in San Diego County.
Featured Item
Digital exhibit of selected submissions to the CSUSM Together/Apart Memory Project. Includes some material submitted by brewing industry personnel.
Featured Collection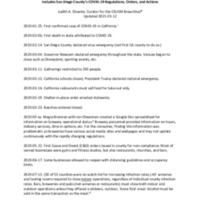 Collection of signage, labels, legislative actions affecting breweries and tasting rooms in California
Recently Added Items
Timeline in several parts due to file size recounting San Diego brewery activity from 1868-present. History is broken into 'waves' of First wave…
Competition instructions, score sheet and ribbon awarded to Greg Lorton.